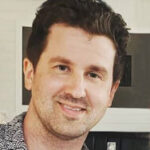 Ryan Derenberger is a freelance journalist and editor, a Journalism and AP Language teacher at Whitman HS in Bethesda, MD, and the founder of 'The Idea Sift.'
If it all weren't so endless,
this and this would more obviously be
from our time machine,
which by this second
makes seconds so easily
with the handle of a screwdriver, even,
and invents cause itself,
consistent and decadent.
When I hear
"time machine"
I don't think of Wells
or Doc Brown.
I don't think of movies
or even opportunities
as they were or might be
incarnations of me
meeting myself endlessly.
I don't think of these things,
not at first, at least.
At first
"time machine"…
I imagine a
metal conglomerate
with apparitions in it
fashioning Time
on an internal
assembly line.
Laws of physics
like screws and rivets
layered in bins
shelving systems
and everythings,
ripped from that to this.
We just get one invention,
like some
single toy revealed at the end,
steaming in lead on a conveyor belt,
and we stare.
We can never turn around,
so we call it
"time machine"
because time's the only
product we've ever seen.
THE STIFF
We think our experiences and observations prove what the universe is and what it can do.
THE SIFT
We have no clue what else the machine making moments can make.