The sounds in places we've never been are massive and new.
I saw Nothing there once.
It was beckoning a moment of sequence.
The moment hesitated.
There are other types of moments, too.
This one in particular was not the most cautious.
Nothing became decisively not Nothing. It sounded
and closed its eyes for a universe or two.
Still seeing light through its lids, dull but there,
light showed objects floating completely,
then fixated and still. Complete.
Moves out in another law.
THE STIFF
Existence is, basic.
THE SIFT
That there is anything at all is fundamentally incredible.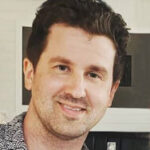 Ryan Derenberger is a freelance journalist, a Journalism and AP English teacher at Whitman HS in Bethesda, MD, and the founder of 'The Idea Sift.'